-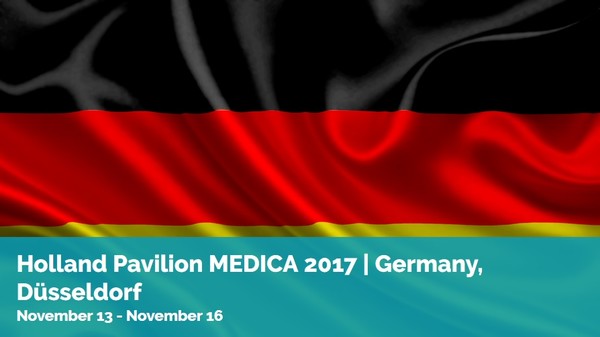 13-16 november
Holland Pavilion 2017
For the 7th time the successful Holland Pavilion is being organised, with 32 participating Dutch companies the Holland Pavilion will cover a 300 m2! The Holland Pavilion provides an excellent opportunity to meet companies and experts from the Dutch Life Sciences & Health sector. Located in Hall 15 |  F56/58/60 we welcome you to meet the Dutch and especially don't miss out on:
Dutch Trade Reception (14 Nov | 16:00 – 17:30)
With the attendance of Secretary General Erik Gerritsen of the Dutch Ministry of Health.
Meet the Dutch! Networking Party (15 Nov | 16:00 – 20:30) 
Let's do lunch! (16 Nov | 12:30 – 13:30)
Participating Dutch Organisations
From the 13th until the 16th of November the MEDICA trade fair will take place at the Messe in Düsseldorf, Germany. MEDICA is the world's largest event for the medical sector and for more than 40 years it has been firmly established on every expert's calendar. With over 130.000 visitors and 4.900 exhibitors the MEDICA is renowned worldwide among the Life Sciences & Health sector. A total of 71 international representatives support Messe Düsseldorf in 132 countries worldwide. Moreover, the MEDICA 2017 is appointed as most valuable trade fair by the Dutch Topsector Life Sciences & Health (LSH).
Would you like more general information about the MEDICA 2017 click here.
Organisation by: Task Force Health Care in cooperation with Health~Holland and in assignment of the Netherlands Enterprise Agency (RVO).