-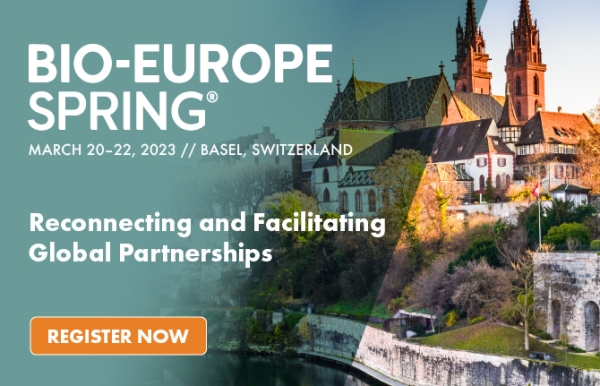 It's time once again to network and facilitate partnerships face-to-face at the premier springtime event for the life science industry. The seventeenth annual BIO-Europe Spring® premier springtime partnering conference is back in-person and will be taking place March 20–22, 2023 in Basel, Switzerland.
Building and nurturing relationships is an essential part of the progression of successful business partnerships. The last two years have fundamentally changed business development and networking. Therefore, BIO-Europe Spring 2023 will launch as a fusion of innovative digital solutions and a vibrant onsite event of unprecedented scope.
Expanding on the success of EBD Group's flagship conference, BIO-Europe® , BIO-Europe Spring will bring together over 2,800 leading executives from around the world. Specifically, we will host more than 15,000 partnering meetings to connect leaders from academia, start-up, and scale-up biotech companies with forward-thinking investors and pharma companies. Along with world-class workshops and panels, innovative company presentations, active exhibition and a variety of networking opportunities make this event an unrivalled forum for companies across the biotech value chain to meet and do business.
Our partnering platform, partneringONE®, continues to be the gold standard of complete access. Using ONE login, delegates can experience the entire event from anywhere, including one-to-one meetings and conference activities. Scheduled meetings will take place face-to-face during the conference days as well as digitally during the digital partnering days with links to a video conferencing solution. Additionally, on demand content will be made available leading up to the event as well as during the digital days on March 23–30.
Together with the Biotechnology Innovation Organization (BIO), EBD Group is thrilled to welcome you back to this "must-attend" springtime partnering event—making it a special reunion for some and new beginnings for others.  
For more information and online registration please visit the conference website.
Pre-Revenue Biotech and Academia offer (5 for 1 offer)
Register first colleague for the full price and bring one more colleague to the face-to-face conference and up to three colleagues to the digital conference without additional charge. Full criteria are listed here.
Young Company Offer
We are offering the Young Company rate again. Qualifying companies will get to attend for 595 EUR, plus bring one more colleague to the face-to-face conference and up to three colleagues to the digital conference without additional charge. To be considered companies need to fill out the application form and meet the following criteria:
Developing therapeutics or diagnostics
Pre-revenue -3 years old or younger
With 10 or fewer full-time employees
Discount for HollandBIO members
HollandBIO members receive 15% off registration. Please contact HollandBIO's Robbert for the discount code.