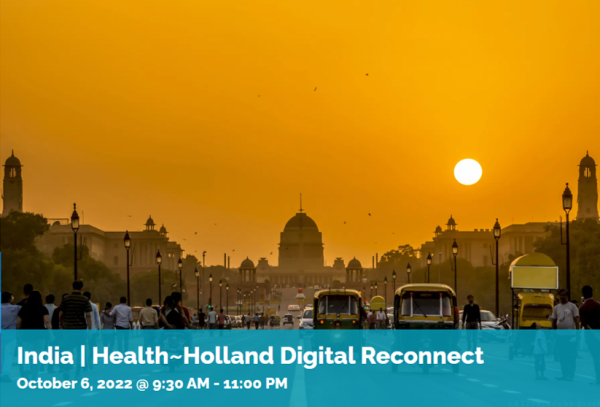 Are you interested in India's Life Sciences & Health sector? Would you like to know more about the latest trends and developments in this country? Eager to learn more about the available tools of the Topsector LSH and Dutch government regarding (re-)connecting you with key stakeholders? Then sign up for this (free) digital event!
What to expect?
Our network in India will present the latest trends and developments in the Indian healthcare sector. The current situation with regard to its LSH sector will be discussed, including its opportunities, challenges and long-term perspective. This offers you the opportunity to ask any questions you have and to discuss our upcoming activities and future programme for India, co-creating the India-Dutch LSH-agenda.
Programme
09:30 Opening doors
09:35 – 09:40 Welcome and introduction,
Speaker: Sterre Bergman, Project Manager, Task Force Health Care
9:40 – 10:00 LSH developments and opportunities for partnership in India
Speaker: Siddhartha Bhattacharya, Secretary General, NatHealth India
10:00 – 10:10 Q&A session with Siddhartha Bhattacharya
10:10 – 10:30 Activities of Global Value Web in India and market entry of a Dutch company
Speaker: Louis Hendriks/Pankaj Chipalkatti, Global Value Web
10:30 – 10:40 Q&A session with Global Value Web
10:40 – 10:50 Upcoming LSH activities in India
Speaker: Sterre Bergman, Project Manager, Task Force Health Care
11:00 AM Closing
Register today! 
Please sign up now for this webinar. We are looking forward to meeting you on the 6th of October. 
This seminar is powered by Health~Holland and organised by Task Force Health Care.
Source: Task Force Health Care