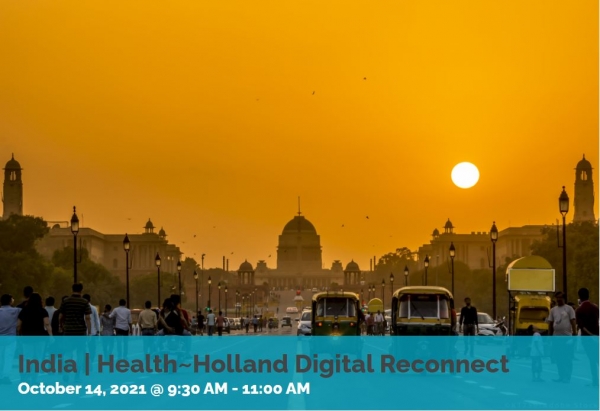 What are the latest developments in India's Life Sciences & Health sector? How can Dutch solutions respond to these challenges?  Are you eager to learn how the Topsector LSH and Dutch government can (re-)connect you with key stakeholders? Please sign up here for this (free) Digital meet-up.   
What to expect?   
A country update addressing the current situation in India with regard to the LSH sector its opportunities, challenges and the long term perspective. 
Moving Forward, co-creating the India-Dutch LSH-agenda: presenting and discussing our upcoming activities and our future programme for India.  
Your participation gives you the opportunity to influence what kind of activities should be organized to boost your business in India.   
A more detailed programme will be made available soon.  
Did you know? 
India is on the road to become one of the largest UHC markets, with services being provided by both public and private hospitals; 
Healthcare spending in India is expected to reach US$372 billion by 2022, with hospitals contributing about 36 percent to the overall share; 
The COVID-19 pandemic brought about significant changes in digital health in India, bringing the field fast forward by years; 
Covid-19 has increased the market for patient centric remote monitoring solutions, deployment of non-contact technologies and accelerated the development of low-cost, scalable, and quick solutions. 
After this Digital meet-up, you will have strengthened your…   
..knowledge on LSH-opportunities in India 
..marketing strategy for 2021-2022 through the India-Dutch LSH-agenda   
..network of fellow Dutch innovators and entrepreneurs active in India  
Register today!   
Register here. This event is FREE of charge.   
Source: TFHC